Dennis Jernigan Newsletter
December 5, 2011
• New Book Available in Paperback
• NGCI
• Worship From The Living Room - TONIGHT!

• December Events
• A Word of Encouragement
• Can You Help?
NEW BOOK AVAILABLE IN PAPERBACK!!!!!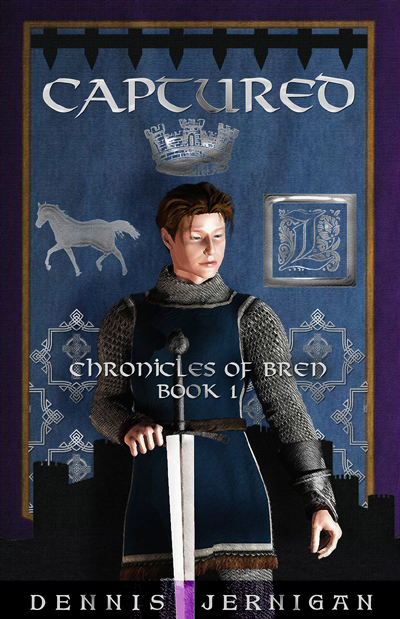 The Chronicles of Bren: Captured is now available in print just in time for Christmas! Read on for more info on the book and special Christmas pricing.
The Chronicles of Bren: Captured is the beginning story in the saga of one boy's journey to manhood. Young teen, Lee Jennings, bullied constantly by local boys, suddenly finds himself transported into a world of fantasy and adventure…and plunged into a whole new identity as the son of a king! How he traverses this new world and endures captivity at the hands of the realm's resident evil lord is also the journey of self-discovery that will one day serve Lee in his adult life. Full of fantastic beings and magical creatures from this new dimension and wrought with many twists and turns, Captured is just the beginning for Lee Jennings…and is designed to be an adventurously entertaining ride for readers of all ages.
What others are saying about The Chronicles of Bren: Captured
"We have been reading the book out loud to each other and have really enjoyed the plot twists.  We really feel like this would make a great movie and reads almost like a script for one."  -  J. & K.
"The story of Prince Leonolis captured me from the very beginning. From the humble beginnings of Lee, to the capitulation of Lucian's plans for him, I found myself flying through the pages as if saddled to Leonolis's fine black steed, Arolis. Dennis has given quite the adventures of a young man destined for more than royalty. It is not just the story of a boy coming of age, but conceals timeless truths about love, revenge, regret and redemption within a magical world filled with vivid characters that inhabit an enchanted, wild landscape. I started reading to be entertained and came away captivated, strengthened for my own journey ahead. I look forward to the next book in the series!" - H.B.
"An awesome entry into the world of Fantasy by newcomer (in writing in this genre, anyway) Dennis Jernigan. This book carried my heart and my imagination into the realms of startling suspense, fast-paced action and "where-did-that-come-from" plot twists. An excellent tale of good vs. evil and enough multi-creature battle scenes, spells and magic to keep the most ardent gamer enthralled. Reminiscent of Bryan Litfin's epic fantasy tales, "The Gift" and "The Sword", it will keep you on the edge of your seat, and stand as an epic tale, told well. As the action and the story wind down, you'll dream of the next adventure Dennis Jernigan has in store for us."
FreedbyJC
"WOW! I couldn't put this story down! What an epic, beautiful, redemptive story. This story is one of love stronger than death, adventures that will thrill you, characters that make you angry, and ones that make you laugh. I LOVED the story and cannot WAIT for the second installment (PLEASE TELL ME THERE WILL BE ONE)! This is a book I will definitely recommend to anyone. This is a great story to read to children, but even adults would get a thrill out of it. I could go on, and on, but I will say that this is a MUST-READ and not a hard read. Brilliant, brilliant, brilliant!"
H.B., Sydney, Australia
Dennis Jernigan grew up in rural Oklahoma where he lived out many fantasies as a boy. Growing up on a farm and having a horse and many miles of countryside to be explored, Jernigan lived a boy's dream. In addition to his many adventures on horseback, he often imagined himself growing up on the USS Enterprise as the son of Captain James T. Kirk. He credits this imaginary existence with his joy of writing fantasy. Many of his actual experiences in those early days have been reimagined in his first fantasy novel, The Chronicles of Bren: Captured.
Dennis makes his home in Oklahoma very near the area where these stories were first inspired. Along with his wife, Melinda, he has raised 9 children there and is currently working on the next book in this series, The Chronicles of Bren: Sacrifice.
Regularly $14.99 – Christmas price $11.99
$9.99 per book when purchasing 5 or more
We'll throw in a copy of HYMNS I for the first 100 orders!
Dennis will also be glad to sign each copy if requested!
Call 1-800-877-0406 to place your order.
NGCI
It's time, once again, to begin panning for the Next Generation Creative Institute. This very special weekend with Dennis and Melinda in their home would be a perfect Christmas gift for a creative person. Consider gifting this weekend to someone. To find out more about NGCI, go to http://dennisjernigan.com/store/product.php?c=32
Worship From The Living Room
This Monday evening, December 5th, join Dennis for a time of worship and ministry from his personal studio. To join in on the live FREE broadcast, go to www.livestream.com/dennisjernigantv and join us at 9 PM CST.
December Events
December 18, 2011
9:00 AM / 10:40 AM Worship at Immanuel Baptist Church in Poteau, OK.
Immanuel Baptist Church
20739 290th Street
Poteau, OK. 74953.
For more information about Immanuel Baptist Church please visit their website http://www.ibcpoteau.org/.
6:00 PM Night of Praise
Choices Church/ Ray's House
Muskogee, OK
3991 East Peak Blvd.
Muskogee, OK. 74403
For more information please visit Choices Church website here.
December 25, 2011
10:30 AM Christmas Morning Worship
Sequoyah Hills Baptist Church
10:30 AM i
714 North Harvard Avenue
Tulsa, OK. 74115
For more information about Sequoyah Hills Baptist Church visit their website here.
December 31, 2011
10 PM CST New Year's Eve Night of Praise
Revolution Church
2323 West Chestnut
Rogers, AR. 72756  more information and directions http://www.revolutionnwa.com .
A Word of Encouragement
Sometimes I go through periods where I wonder if my life and ministry are being effective for the Kingdom…and then the Lord blesses my life with letters such as the following:
Hello, my name is "M" and I go to LeTourneau University. For
probably ten years I had struggled with pornography, and I've battled it on
and off. When I arrived at LeTU I decided to start an accountability group
that meets weekly, because I knew secret sin was a big issue for young men
(actually all men, but my dorm hall specifically). The group meets once a
week and we typically have open discussions on scripture and confess and the
typical things that an accountability group would, and of course in the
first weeks we would admit the easy sins such as porn and lust. Then you
gave your testimony at LeTU. You being so honest and addressing the sin of
homosexuality like you did had quite an impact on our little group. The next
time we met we had an outpouring of honesty and confession, of thoughts of
homosexuality and incest, and addictions to alcohol and drugs, among other
things. We started to grow in size and people that I never would have
expected to come started showing up. We now have a group of students who,
wanting to present ourselves as a pure bride before God, are showing
complete honesty and confession. I want to thank you for sharing your
testimony and show you how God is using you to further His Kingdom.
God Bless
"M"
November 11th, 2011 I went to your concert and was mad at my mom when I found out it was a thing for gay people. But, she asked me to stay and I did. My life has been changed forever. Seeing others who felt the same as I did. People who had changed their ways for God. I didn't feel alone anymore. I felt hope for the first time in years. It was beautiful. Then you started singing, and ever single song you sang touched me in a special way. I couldn't believe the feelings I felt, when you would sing I specifically remember everything turning black and my focus was 100% on you. You showed me hope and God. I just had to talk to you, something kept on bugging me and I just didn't know what to say. I just did what I had to and gave you a hug. You might no have known this at all. But, I felt loved and cared about with that one hug. When you stood up, I knew I could trust you. I could see that you knew everything I felt at one point by just looking in your eyes. As weird as this all might sound, it's so true. I just want to thank you so much. I left my boyfriend today, and I'm taking steps toward help.
"BL"
Please know any support you can give – either through purchasing my materials or through financial gifts – is helping set the captive free.
Blessings,
Dennis Jernigan
Can You Help?
Here are two upcoming needs of my ministry:
• My vehicle – a 2004 Ford Expedition – has 252,000 miles and is dying a slow death. This is my mode of transportation to ministry opportunities within 500 miles of home. We will need something to replace it soon.
• I would like to record a new worship/ministry album in the coming months. We will need $20,000.00 to do so. Any help would be appreciated.
To help support the work of ministry through the life of Dennis Jernigan, go to http://dennisjernigan.com/how-to-support-the-work-of-dennis-jernigan