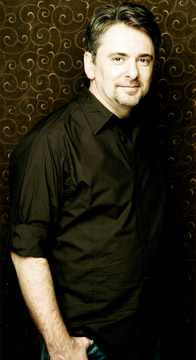 You may not recognize the name or the face of Dennis Jernigan, but there is a good chance you know some of his music. Songs like "We Will Worship the Lamb of Glory", "Thank You", "Great is the Lord Almighty", "Who Can Satisfy My Soul (There is a Fountain), "I Belong to Jesus", "Nobody Fills My Heart Like Jesus", and "You Are My All in All" have been sung widely by the body of Christ since the early 1990s. Having written hundreds of songs (even though Jernigan does not see himself as a song writer but, rather, a song "receiver"), there is so much more to the man than simply a musician.
Dennis has given a great deal of his life to setting the spiritually captive free. Having walked out of a homosexual identity and into that of a new creation, he is convinced that with God NOTHING is impossible. Through the sharing of his story and the sharing of the stories behind the songs, Dennis Jernigan has watched literally thousands walk out of all manner of spiritual bondage and has watched literally thousands of desperate, wounded people find healing through intimacy with Jesus Christ.
If you lead people to freedom, they WILL worship.
Dennis Jernigan has been married to Melinda for 29 years. Together they have nine children (and no, they are not Mormon or Catholic and the children are not adopted…and yes, they know what causes that…and yes, they like it!). The Jernigans decided a long time ago that Dennis's first priority was that of husband and father so he never truly toured and they chose not to live in Nashville…not that there's anything wrong with any of that! This was simply the Jernigan's mandate from the Lord as they saw it. Perhaps that's why you do not know who he is. And that's just fine with him.
The life message of Dennis Jernigan can be summed up in one word. Freedom. That freedom has come with a price. Jernigan was born again through his faith in Jesus Christ…but the reality is that the battle for freedom from the lies of the enemy regarding his past identity has been ongoing. His greatest joy has come in seeking intimacy with Jesus Christ – and in the process, discovering greater depths of freedom than he ever realized. And he wants everyone else to know about the possibility of freedom in their own lives. Just check out his series of testimony videos at YouTube.com/user/dennisjernigan and you'll see what we mean. Every song, every blog, every video, and every book he has written are all interlaced with the theme and hope and possibility of freedom. And so it is with his latest recording and DVD, "Here In You Presence LIVE from San Antonio".
"Here In Your Presence LIVE from San Antonio" is a collection of 12 songs of worship and ministry from Jernigan's perspective. The underlying theme of his heart is evident. Jernigan says, ""I feel the ministry, not only of the songs, but of what I felt led to share during the worship and ministry time will serve to minister long after I am gone."."
If you lead people to freedom, they WILL worship.
Recorded over a 2-day period as Dennis led worship in the four worship services of Community Bible Church in San Antonio in April of 2010, the 12 songs recorded run the gamut from the joyful, exuberant We Will Overcome to the triumphant, victorious song of spiritual warfare Run to the Battle…and from the majestic choral anthems of proclamation and surrender found in All Hail King Jesus and the title song Here in Your presence to the spiritual challenging songs Luke 4:18 and Consume Me. As is almost always the case, Jernigan included a song from the Father's perspective that proved to be one of the most compelling moments of the recording. That song, Come Home, is already proving to be a powerful ministry tool to even the lost and separated from Jesus…and worth the price of the recording in our humble estimation.
In addition to the CD version of Here In Your Presence, we also are very excited to announce the DVD version! Using the footage from the worship times at Community Bible Church, the DVD is designed for use with small groups or times of private worship. As you watch the footage, the lyrics scroll across the page inviting the viewer to participate in the worship. Perfect for use in your own ministry, the DVD will prove useful to you and your own ministry on many levels.
Containing 12 songs of worship and ministry, the band, praise singers, choir, video, and technical crew of Community Bible Church went above and beyond the call of duty in all they poured into this recording and its subsequent ministry. Produced by Worship Pastor Ray Jones, assistant Worship Pastor Ron Blount, engineer extraordinaire, Marius Perron, and Dennis Jernigan, Here In Your Presence is a joyful, seamless journey into surrender and intimacy with the Lord from the perspective of the music and ministry of Dennis Jernigan.
All charts, as heard on this recording, are available at www.praisecharts.com. Accompaniment tracks are available at www.dennisjernigan.com. In addition, the CD also contains 2 bonus songs! Since You Are My All in All is DJ's most popular song (received 21 years ago now!), producer Ryan Redding created the latest rendition of this perennially popular worship song we are affectionately calling You Are My All in All 2010! You will also receive the bonus song All I Need Is You, which was written and performed by Dennis's daughter, Galen. When you purchase the CD you will also receive an access code that allows you to download 2 more bonus songs from DJ's web site! The songs I Am Yours and Jesus! Jesus! , also produced by Ryan Redding, are both intimate and worshipful in nature…and just one more way for DJ to express his heart for God and encourage the body of Christ in their calling and in their identity as new creations.
---
Dennis Jernigan has answered the call to the Body of Christ. His desire is to lead others into a deeper understanding of God's love for them, and show how to nurture and maintain an intimate relationship with the Father by the power of the Holy Spirit through the salvation of Jesus Christ. Dennis and his wife, Melinda, along with their nine children, live on a farm in rural Oklahoma.