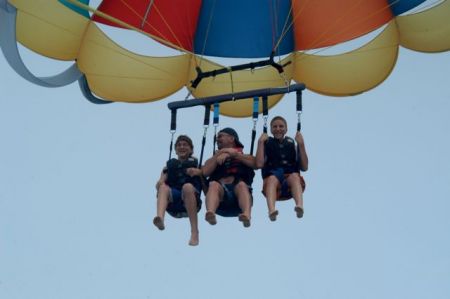 Many of you have been wondering why I seemingly dropped off the face of the earth recently. My family and I were given a wonderful opportunity we could never have afforded otherwise. Through a most generous gift, we were able to fly to Baltimore and drive to Ocean City a week's stay in a condo overlooking the Atlantic Ocean. Normally our 'vacations' have been built around ministry opportunities. We could never afford such trips otherwise…but our children have always wanted to take a trip without me having to do anything else…just 'be dad'. This was that trip!

I ministered at the first night of the Exodus International Freedom Conference in Wheaton, IL. This was SO VERY GLORIOUS that I have no words to describe. I came away feeling God received much glory and that hundreds received deep ministry. During my stay there I had little opportunity for internet connection (and had absolutely NONE at the condo in Ocean City!). As I flew out of Chicago and headed to Baltimore to join my family I was to make a connecting flight in Detroit. While in Detroit I misplaced my cell phone. I lost not only my phone but every number I had collected for the past 15 years! As I deplaned in Baltimore and realized I had no phone I was overwhelmed with a Kingdom Point of View: the Lord had set me up to clear my mind and refresh my soul by giving me uninterrupted time with my wife and children.

We boogie boarded…we ate seafood…we shopped for souvenirs…we ate ice cream…we went to a movie…we ate popcorn…we laughed and laughed and laughed at my children speaking for hours in an English accent…we ate hamburgers…we walked on the boardwalk…we ate a bucket of fries soaked in salt and dipped in vinegar…we went deep sea fishing (me and the boys) and caught sea bass and flounder…we ate more seafood…we played a spelling game called 'Bananas'…we ate ice cream…we watched 'A Hitchhiker's Guide to the Galaxy'…we ate Dunkin Donuts…we flew a kite…we ate cookies…we road 2 roller coasters (me and the boys)…we ate Italian Ice…we enjoyed being together without any ministry responsibilities…we went to Assateague Island and saw the wild horses I had read about in the Marguerite Henry books as a boy (Misty of Chincoteague, Stormy: Misty's Foal, etc.)…ate Chinese food…found a dead whale carcass on the beach…didn't have so much appetite for awhile…watched hundreds of porpoises swimming in the morning waves…went parasailing 800 feet above the ocean with the boys (lost my hat)…ate…lost my prescription sunglasses in the waves…ate Chick-fil-a…bought new glasses and a floating cord to keep them from sinking should they fall off again…ate…read a book on the English language called 'The Mother Tongue' and learned a lot about why we talk the way we do (you can sound Australian if you say 'scona rine'. See if you can figure out what that weather forecast might be!)…ate…sat on the deck with my wife…ate…watched my kids create memories…ate…and so much more…

I think this was one of the most spiritually refreshing times I can remember because I didn't try to be spiritual in any way. I just got to be me with my family. We didn't worry about anything but when and where we were going to eat next (as I'm sure you had already perceived from the above paragraph)! Thanks to our benefactors, we were able to not fret about money for once…and that in and of itself was very refreshing and foreign! Of course, I dared to check my email today and was overwhelmed with 500+ and have already weeded that down to 160 – but that's OK.

The time off gave me the chance to really consider how to live more in the Kingdom Point of View with the remainder of my life. To live from the perspective of what God sees is really where I want to live all the time. I am more open to whatever the Lord has for me than ever…I'm willing to stop traveling…I'm willing to travel to the ends of the earth…I'm willing to pastor a small church…I'm willing to pastor thousands online…I'm willing to fade into obscurity…I'm willing to be God's vessel to this culture…I'm willing to face pain and hardship…I'm willing to not feel guilty about receiving good gifts…I'm willing to thank God in my abundance…I'm willing to thank God for the times I lack…I'm willing to live life as fully as possible and enjoy every minute regardless of the circumstances: when I can see from His perspective all I can see and feel is hope and life and joy.

Thanks for praying for me and my family as we took this time off. Now, back into the fray!
Blessings,
DJ

Upcoming Ministry with DJ

July 26, 2009
10:30 AM Morning worship
Evening Night of Praise and We Will Worship Musical
Judson Baptist Church
32470 Walker North Road
Walker, La. 70785
225-665-5481
www.judsonbaptistchurch.com

July 29, 2009
Night Of Praise 7:00 PM - 9:00 PM
Tulledega Hills Baptist Church
300 West Main
Henryetta, OK
www.head4thehills.org

August 1, 2009
Song Receivers Seminar and New Song Showcase
All Day Seminar include meals
9:00 AM - 6:00
New Song Showcase (Open to the Public) 7:00 PM - 8:30 PM
Night of Praise (Open to the Public) 8:30 PM - 10:00 PM
Tulakogee Conference Center
34168 East 713th Way
Wagoner, OK 74467
Call 1-800-877-0406 to register for the seminar. To pay online click here.
Go to www.tulakogee.com to see the conference setting!

August 3, 2009
Worship From the Living Room With Dennis Jernigan 9PM CST
Join in the live worship and ministry by logging in at http://www.livestream.com/dennisjernigantv

TrackBack URI for this entry
Comments
(3)
...
written by Denise , August 06, 2009
I really enjoyed reading about your recent vacation. I thank God that He blessed you in that way. Those are memories you and your family will cherish forever. I could really relate to all your food highlights. That's always one of the highlights of our vacations, too!
...
written by Cheri , August 03, 2009
What a great break for you and your family! I love how God fixed it so that you didn't have to worry about responding or not to emails, comments, voicemails...He just took care of that. I'm so thankful you had a time of refreshing with your family.
Write comment
---